Ulster Bank under fire over compensation delays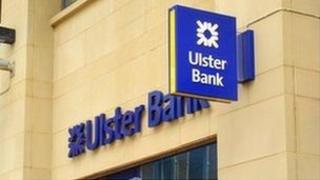 The Ulster Bank has been criticised for the continuing delay in compensating customers affected by a computer failure in June.
Some customers were unable to access their accounts for almost a month.
The Consumer Council said it was "unacceptable" that there were still problems with accounts.
But the bank said it had started to correct and reverse fees and charges and would provide full details of its redress procedure as soon as possible.
Antoinette McKeown of the Consumer Council said they had met the bank two weeks ago and were assured that plans for customers were at an advanced stage then.
However, she claimed the bank was still not in a position to give them or its customers any indication of when a redress procedure would be announced.
"Considering that there are Ulster Bank customers who have yet to see their accounts fully reconciled and returned to normal, this delay in arranging redress is incomprehensible and unacceptable," she said.
"Over the past month the Consumer Council has continued to work with the bank and been in contact with them on a near daily basis in the best interests of consumers.
"This is something that we will continue to do. It is the Consumer Council view that this redress procedure should have been issued weeks ago."
A technical failure on 19 June affected many customers' accounts across the Royal Bank of Scotland (RBS) group.
Normal service was not restored to Ulster Bank customers until 16 July.
Ulster Bank has set aside £28m to cover the costs from the crisis.
But Ms McKeown said there was no justification for prolonged delays in the compensation process.
"We are now into the third month of this crisis. Ulster Bank must act now and publish and implement their redress procedure, as once again it appears that Northern Ireland customers are left at the back of the queue," she said.
In a statement, the Ulster Bank said: "We want to make this process as simple and clear as possible for our customers.
"We have already started to correct and reverse fees and charges to Ulster Bank customers impacted by this issue.
"We continue to engage with our stakeholders and will provide full details as soon as we can."