Judicial review of Rasharkin parade to be heard in High Court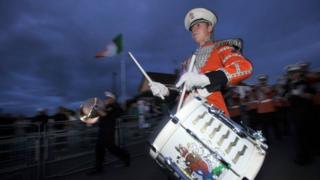 A judicial review against a Parades Commission decision to limit the number of bands that can take part in a parade in Rasharkin will be heard in the High Court on Friday.
The commission ruled that 25 bands can parade in the village on Friday night.
The Ballymaconnelly Sons of Conquerors band is challenging the commission's ruling to limit band numbers. It says the restriction is unreasonable.
Mr Justice Weatherup will hear arguments from both sides.
The band has also questioned the process about how the Parades Commission came to the decision of 25 bands.
Sinn Fein and the SDLP have welcomed the Parades Commission decision but unionists have criticised it.