Arrests during Rasharkin parade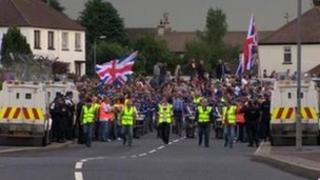 A loyalist parade through Rasharkin in County Antrim passed off peacefully on Friday.
The Parades Commission had restricted the number of bands taking part to 25 after the organisers applied for 44.
A high court judge had rejected an attempt by two bandsmen to have the ruling overturned.
The police said one person was arrested before the parade, two during and one after the parade had finished.
A 34-year-old man was arrested on suspicion of arson before the parade started.
The two arrested during the parade were held separately on suspicion of assault and incitement to hatred.
A fourth man was detained on a money warrant after the parade.
About 100 nationalists from two residents' groups held a protest as the parade passed down the main street of the mainly nationalist village.
In previous years, up to 60 bands took part in the parade.
Earlier on Friday, the Ballymaconnelly Sons of Conquerors flute band had argued in court that the commission' s decision was unreasonable.
The bandsmen also said it was punishing them unfairly over the issue of dialogue. They said they did not accept that they had not engaged in dialogue.
Mr Justice Weatherup said that the commission had legitimate grounds for imposing conditions.
The Parades Commission issued a statement welcoming the judgement.
"We hope that those participating and attending the event will abide by the determination and will reflect upon the need for a sustainable solution achieved through meaningful dialogue," it said.
North Antrim DUP MP Ian Paisley Jnr said he was disappointed with the judge's decision as he believed the bandsmen had a strong case.
"We believe they should consider, and have the right to consider, an appeal," he said.