Republican parade accused 'identified by facial mapping'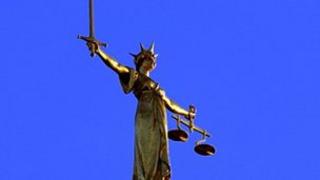 Facial mappers used photograph comparison techniques to identify a masked man accused of being the lead flag bearer in a republican parade, a judge has heard.
Patrick John McDaid, from Beechwood Avenue in Londonderry, denies a charge of managing a meeting in support of a proscribed organisation, the IRA.
A prosecuting lawyer said it was the Crown case that McDaid and the masked flag bearer were "one and the same".
The parade took place in April 2011.
The lawyer described how a masked colour party carrying various flags headed up a parade at the Derry city cemetery close to the graves of republicans during an Easter Monday commemoration.
The parade was organised by the 32-County Sovereignty Movement, and a speech was made by a masked man on behalf of the Real IRA and Oglaigh na hEireann (OnH).
Seized footage
The prosecution told the opening day of the Diplock, no-jury trial at Belfast Crown Court that the colour party, "attired in apparently military uniform", had been taken to and from the cemetery in the back of a van driven by 51-year-old Marvin Canning.
Last week Canning, a brother-in-law of Deputy First Minister Martin McGuinness, and from Galliagh Park in Derry, pleaded guilty to the same charge but walked free from court after his 10-month jail term was suspended for three years.
Pleading guilty alongside him was fellow Derry man Frank Quigley, 30, from Elmwood Road, whose nine-month jail term was also suspended for three years.
The court heard police footage of the commemoration, along with footage seized from various news outlets, was sent to an expert facial comparison company.
Comparing photographs of McDaid, 43, taken when he attended the commemoration in 2007 and 2009, an expert said that "his examination lent moderate support to the view that the two persons were the same".
In addition to that evidence, said the prosecution, police had seized documents from a man's home in follow-up searches which seemed to have been written out in preparation for the commemoration.
"The significant part, we say, in support of the identification, we say of the main flag bearer reads: 'colour party - McDaid to get people sorted'," he added.
"We respectfully say that the evidence supports the conclusion that the man who is masked and carrying the tricolour is this defendant."
The trial continues.