Bangor man plays for Langholmen in IFK Gothenburg football clash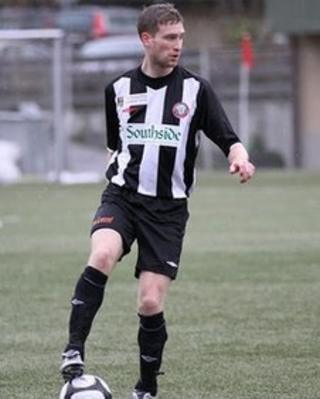 When Andy McClelland went to work in Sweden four years ago, he never would have dreamed he would one day be playing competitive football against one of Europe's best-known clubs.
On Monday night, that is exactly what the man from Bangor, County Down, ended up doing when he ran out against IFK Gothenburg.
The 26-year-old, who started off with the Harland and Wolff Welders Football Club in Belfast, now plays for Langholmen FC, which until recently was a Stockholm pub team.
The club, made up mainly of English speaking expats, is only 10 years old.
It started off as a social kick about, but the team has gained respect after winning four championships and receiving ten promotions.
Its entry this season into the Swedish Cup, means the club is now recognised as much more than a group of friends meeting outside of work.
The club's victories in the first two rounds of the cup took them into the last 64, and led to their draw against Gothenburg.
The two clubs are poles apart. Langholmen, despite its meteoric rise, sits second from the bottom of Division Four and survives on sponsorship and the membership fees paid by players.
Monday night's match saw them play against a team founded almost 100 years earlier and which has a reputation as one of the most successful clubs in Sweden.
Speaking ahead of the match, Andy said the game was the "biggest" in the club's short history.
"We are aware that our opponents are very successful," he said.
"There will be a massive gap in terms of quality, we are just aiming for a respectable score."
Irish connections
Andy moved to Sweden in 2008 with his girlfriend to take up a position at a sports hospitality company.
He joined Langholmen upon his arrival and has now played three seasons with the club's first team.
The centre-back is the only member from Northern Ireland, although there are others from Cork and Dublin in the Irish Republic.
The team also has strong Irish connections, with Irish butchers putting on a barbecue at the Monday night game.
Southside, an Irish pub in Stockholm, has also sponsored the team from its inception.
Andy and his teammates fit their twice-a-week training sessions around their full-time jobs. Among those on the team are a teacher, an accountant, an IT project manager and a physiotherapist.
"Our season is very short and intense. We play 22 games over the summer from April until October as we are unable to play during winter," Andy said.
Langholmen's home pitch has an artificial grass pitch, and according to Andy, it has "no actual stands".
"We usually have about 50-60 spectators, and for this game we are expecting between 500-1,000, so we are having to go elsewhere," he added.
To accommodate the extra demand, the team hired Grimsta IP, the home stadium of the second-tier team IF Brommapojkarna.
Unfortunately, the minnows were unable to continue their fairytale cup run, with IFK Gothenburg running out 9-0 winners.