County Down eyesore set for demolition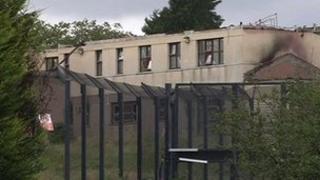 Work is underway to clear one of Bangor's largest derelict eyesores.
The vacated site of a former young offenders centre in the County Down town was left untouched for years.
Known locally as Rathgael, the old juvenile justice centre, is finally being torn to the ground.
The 65-acre site has been blighted by problems - vandalism, anti-social behaviour, thefts and dozens of deliberate fires.
The government sold the land to a private developer in 2007 for a reported £65m, but plans for 850 new homes collapsed with the property crash.
An outstanding loan on the site was transferred to the Irish Government's National Asset Management Agency (NAMA).
After years of neglect North Down Council ordered the company responsible for the land to address the dilapidated condition of the buildings.
Local DUP MLA Peter Weir said the move should be welcomed.
"I think it will come as a great relief to local residents, as we have seen this site really become just a dumping ground and as a magnet for anti-social behaviour," he added.
Increasingly councils are exercising their powers to force developers - or banks - to clean up derelict or unsafe sites and buildings.
"I think the situation here has been hampered by some of the problems with ownership, and the fact this has been private land - it's not been government land for the past five years and that has meant that the Department of Justice have had a very limited role to play," Mr Weir said.
Fencing has been erected to secure the site and the clear-up is due to be completed in the next three months.