Giant's Causeway flags art project gets mixed reception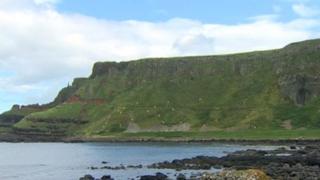 An art installation at the Giant's Causeway in County Antrim has received mixed reviews from tourists.
More than 100 flags have been erected along the coastline in the project by German artist Hans Peter Kuhn, as part of the London 2012 Festival.
Mr Kuhn said the flags, which are red on one side and yellow on the other, rotate in the wind to "show the nature of nature."
"I hope it helps people in developing a sensitivity to nature," he said.
'Stark contrast'
"Nature is unpredictable, and the wind does completely unpredictable things to the flags.
"I wanted the red and yellow to form a stark contrast with the green background."
Some tourists visiting the Giant's Causeway on Monday were left somewhat underwhelmed by the installation, which is titled Flags.
One German woman said: "I can't see the art in this - I would prefer to see the landscape in there.
"It's just red and yellow flags - everyone could do this."
A visitor from England said: "At first I thought they were signs saying 'keep off' because it's a dangerous surface.
"I'm not into this modern art, so no, it doesn't do anything for me."
Other responses were slightly more positive, with one man from Northern Ireland said: "It's different but I don't really know what it means."
A woman who had travelled from Tampa, Florida, said: "Somebody worked really hard to get it up there.
"I don't really know what it's supposed to tell me, but I like it."
Cian Smyth, London 2012 creative programmer for Northern Ireland, said: "One thing that art can do very well is to allow you to look at the world and your environment in new and different ways.
"What Flags is doing is allowing you to look at this landscape with a fresh eye."
Mr Smyth said he believed the project evoked a response similar to that of the ancient people who first came across the hexangonal basalt stones and made sense of it by inventing the myth of the Irish giant Finn McCool building the Causeway.
"The Causeway itself is a strange thing," he said.
"What Hans Peter has achieved is having a conversation with the rocks themselves, and we're allowing visitors to interpret that and revisit what the experience was like in ancient times when people first visited the Causeway."
The project cost £150,000, shared equally between the London 2012 Cultural Olympiad and the Northern Ireland Tourist Board.
Kathryn Thomson of the Northern Ireland Tourist Board said the Flags installation would "create new and iconic images for us to broadcast to a global audience".
"It's really exciting for us to have a international, innovative artist working at one of our key visitor attractions," she added.
The installation will remain at the Giant's Causeway until 4 November.