Italian student racially abused by children in Derry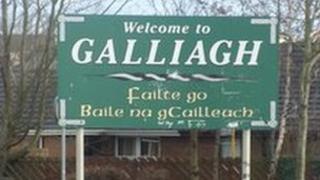 An Italian student living in Londonderry says his partner was forced to leave her home after he was racially abused.
The man says the abuse included stone and egg throwing at her Rosnagalliagh home
The student, who doesn't want to be named, says his partner is "heartbroken" leaving her home after nine years.
And he says he is consumed with guilt about his partner being targeted.
"They were children as young as eight and up to 18 and 20, and included three girls. Their lingo was really offensive and vulgar. It went on for one year, singing songs in the street with me as the subject. I let them go for a while but then it led to stone throwing at the windows, water balloons at the door and at the walls, and eggs at the windows.
"At that stage I called the police which was very upsetting for my girlfriend, i called them but they can't really do anything but go and talk to people and try and make them think they can do better."
Depression
The man said that although his girlfriend didn't want to leave her Rosnagalliagh home, there was a measure of relief that they were putting the abuse behind them.
"The day she actually realised she was leaving was easier. The days and weeks and months she had been listening to me, she had been witnessing this happening to me, I was actually in the place early morning preparing breakfast and then sitting down with my books and I was able to hear when this group of children were flowing out into the streets. Also during the night they were playing with my vehicle which was left in need of repair."
The student said the ongoing abuse had a longer lasting effect on him.
"I was seriously depressed myself at a certain stage. I was actually afraid of leaving the place. For months I closed myself off, whenever I was there I was just in the house. I was literally afraid to go out, even for a walk, even on a nice sunny day, keeping the windows shut, I was scared.
"But when my partner had taken the decision to leave I was very upset because I felt very guilty. She had this beautiful welcoming house but she had to leave everything behind because there was no way to stop these people pestering me."