Jordanian Paralympic squad arrests over assault claim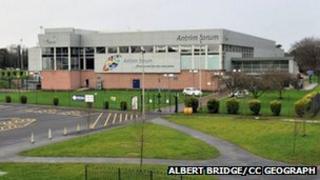 Three people associated with the Jordanian Paralympic squad have been arrested following allegations of sexual assault in County Antrim.
The Jordanian Paralympic squad is one of several foreign teams using the Antrim Forum's training facilities.
The alleged assault took place at Antrim Forum which is managed by Antrim Borough Council.
The BBC understands Sports Minister Caral Ni Chuilin called an emergency meeting with Sport NI and PR specialists.
Antrim Forum is one of Northern Ireland's largest multi-purpose training and leisure centres.
In a statement Antrim Council said: "We are aware of the allegations. This is a police matter and PSNI (Police Service of Northern Ireland) are undertaking a full investigation."
Police have confirmed that they arrested three men, aged 36, 35 and 23, on Monday, in relation to allegations of sexual assault in the Antrim area.
A spokesperson for the Department of Culture, Arts and Leisure said: "The PSNI are currently leading an active investigation and therefore we cannot comment further."
The Jordan squad is due to leave Northern Ireland on Wednesday for the start of the games in London on 29 August.