Firefighters tackle fire at Belfast feed factory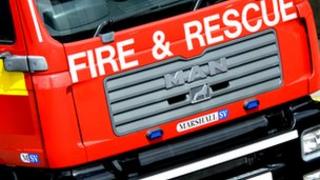 Nine fire engines attended a blaze at a north Belfast animal feed plant on Tuesday morning.
The fire in Thompsons factory on the York Road began shortly at around 03:00 BST.
A machinery fault has been blamed for the fire, which started on the building's third floor and spread through ducting.
The Fire Service said firefighters worked under challenging conditions to get the blaze under control.
A spokesperson for Thompsons described the fire as a "minor incident".
Work resumed at the plant before lunchtime.