NI acts make their mark at the Edinburgh Fringe Festival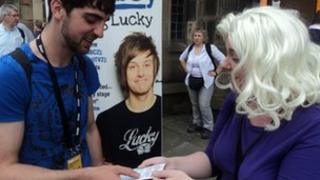 Only those who have been to the Edinburgh Fringe Festival know what it's like to try to push your way through the city's High Street during festival time.
Each year millions of people pack into Edinburgh's city centre and navigate their way through the street theatre and promotional shows.
There were more than 2,000 shows at the Fringe this year.
It was not long before we heard a Belfast accent pushing through the crowds.
Blonde wigs and flyers
Caroline Curran was walking along the streets in a blonde wig giving out flyers for her show. You have to do something to stand out from the crowds.
Her one woman show, "Well behaved women rarely make history," which tells the story of Marilyn Monroe and Mo Mowlam.
"I'm really enjoying the festival. It's great for a wee girl like me from Belfast to be able to come over here and perform on a global stage," she said.
"It's been going really well, the audiences have been enjoying the show and its been a great experience for me."
Everyone involved in the production is involved in flyering everyday to ensure that the shows get an audience.
"We don't really do that in Northern Ireland, but I think it's a good thing. It's a great way to get out and meet the audience and find out what they think. It's great to get feedback if they have already been to see the show."
Molly Wobbly's Tit Factory was by a local writer Paul Boyd and was produced by the Lyric Theatre. It was also supported by the Arts Council to come to Edinburgh.
I met Lurgan actor Conleth Kane in the foyer of the Assembly Rooms.
"It's been great for us to come here, there has been great interest in the show. It's been great for Paul as he can bring big investors here to see his show in a top venue at a world class event. We are hoping some theatres will book the show after seeing it here," he said.
"This is hopefully only the beginning for this show.
"As a performer it's great as well, you've no idea who is sitting in your audience. There could be talent scouts or producers, you could really strike lucky."
Cushions and mice
Not all performers are lucky enough to be sponsored to come to Edinburgh.
The festival is the birth place of comedians and if you want to be a stand-up you have to do a successful season here.
Shane Todd from Holywood, County Down, is in Edinburgh for the first time doing stand-up comedy.
He has been sleeping on two big cushions on a rented kitchen floor but recently had to move after he woke up one evening to find a mouse sitting on his face.
Shane has just finished a lunchtime set in the basement of a nightclub.
"It's so important for comedians to come here. Gigging every day and working with other comedians. I can feel my material getting better and I'm becoming more confident," he said.
His afternoon slot means he was able to attract a good sized audience, he also did not charge admission.
Shane had more than 50 people in the audience, which is good for Edinburgh and the crowd seem to like him.
"He's so funny, he's definitely going to be the next big thing," one new fan told me as she was leaving.
Young comedians can learn a lot from the festival and use it as a place to try new material. The crowds are traditionally quite tough due to the mix of people that attend.
Diona Doherty from Londonderry is also at the festival for the first time with comedy sketch group FNT (Friday Night Therapy).
The group are sponsored by Channel 4 and also have one of the South Park writers on their books.
"Edinburgh is completely crazy. It's been a mixture between a trip with the girls scouts and a lads weekend in Magaluf," she said.
The Boat Factory
"It's been a complete learning curve for us and we feel like we are coming back to Belfast armed, like we know what we need to do now. We feel like we've upped our game. We want to come home and blow it out of the water."
It is not all just about getting laughs or getting noticed. One of Belfast's most established actors, Dan Gordon used his performance to promote Northern Ireland's ship building history through his play The Boat Factory.
He had been working on the play for over 30 years.
"I brought this story here because I have a story to tell. The protestant community have a story to tell. We need to show the world that we are a force to be reckoned with. Most people know us for the Titanic or the golfers but I want to show people we are so much more than that," he said.
"This story was inspired by my father and my grandfather. I spoke to around 25 shipyard workers while I was researching the play and it's important to get it out there."
It was well received. It was voted one of the best shows to see at the Fringe and received numerous five star ratings.
The buzz in the city is great. People walking around in costumes with their face painted becomes the norm.
A lady on the street gave me one piece of advice when I was leaving Edinburgh and I guess it makes sense.
"Remember to always be yourself. Unless you can be a unicorn - then always be a unicorn!," she said.