Soldier recalls fatal Massereene gun attack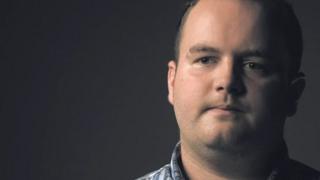 A soldier who was injured during the Real IRA gun attack at Massereene Army base has spoken about the impact it has had on his life.
Marc Fitzpatrick was hit by four bullets during the ambush in Antrim in March 2009.
In an interview for a BBC programme, Crimewatch: Caught in the Crossfire, the Welshman described how he has struggled to cope.
Sappers Patrick Azimkar and Mark Quinsey were killed in the attack.
Marc, 25, told the programme how the shootings had affected him.
"I was like a ghost for the first year or two. I just didn't think I was alive.
"It was such a mad experience.
"It wasn't so much the physical stuff, it was the mental side of it. Why did I survive and not one of the others?"
Marc, whose family are from Caerphilly, was injured just hours before he was due to fly to Afghanistan with the 38 Engineer Regiment.
One other soldier was injured in the gun attack and two pizza delivery men were seriously wounded.
Marc, who had been in the army for five years at the time of the attack, said he had never experienced such fear in his life.
He said the sheer horror of that night could have been a reason why he started getting into fights afterwards.
"I was very afraid that night. I'm a man, I've never been that afraid before. It took a dent out of my manhood and I quite possibly wanted to prove to myself that I was a man."
However, the Welshman is now engaged and beginning to look to the future.
He has a baby boy, called Blake Pat. The child was given his middle name in memory of Marc's best friend Patrick Azimkar who was killed in the attack.
"He is lush," Marc said of his little boy. "I do the day feeds. You can't get your head round it until he is actually there. I keep on thinking: 'When are we going to give him back?' But he's here for life."
Marc admits he is "not fully recovered but back on the right path". He is thinking about going to college later this year.
"In the next ten years... I'll be married and (have) a job, just like a normal person," he said.
Crimewatch Survivors: Caught in the Crossfire will be shown on BBC One on Thursday at 21:00 BST.