Soul sound at Happy Days festival to honour Beckett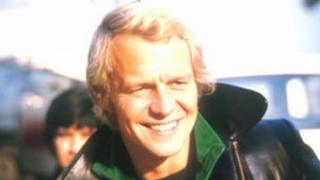 He was one half of the 1970s duo Starsky and Hutch but his love of Samuel Beckett is bringing David Soul to County Fermanagh this weekend.
The well-known actor and singer - who played Detective Kenneth Hutchinson in the American television series - will be reading from one of Samuel Beckett's works at a festival in Enniskillen.
The Happy Days Enniskillen International Beckett Festival is celebrating the work of the Irish playwright and novelist.
It begins on Thursday and runs for five days.
Nobel Prize winner Beckett was a former pupil at Portora Royal School in the town.
Northern Ireland-born festival director Sean Doran said he found out about Samuel Beckett's connections with the town by accident, after a friend mentioned it.
"I raced down to Enniskillen and I saw the place; so beautiful, a compact, island town and the history going back to the monastic islands. This was a perfect fit to hold an annual Beckett festival.
"I think it's something Enniskillen has been waiting for that will bring people to a place that already is so beautiful and warm in its greeting.
"It will put it on the international map throughout the world, because there are many Beckett lovers from Japan to Uruguay... but there is no single gathering place. "
David Soul will attend the festival on Friday and Saturday and will read early Beckett prose in the chapel at Portora.
Tom Brunt is a past pupil of Portora and an aspiring actor who has just graduated from Queen's University in Belfast.
"A lot of the images that appear in Beckett's work you can link back to Enniskillen," he said.
Beckett may not to everyone's taste - but the town is entering into the festival spirit.
At a local sandwich shop, the staff have dressed in the Portora School uniform, and there are Beckett specials on the menu. Hazel Johnston is one of those who works there.
"We found all the ingredients in the plays and novels so we have just incorporated and used our imagination," she said.
"It is just a wonderful bit of fun."
And barber Nigel Johnston can even give you the "Beckett look".
"Samuel Beckett was an iconic image of the 1950s and it really suits the image of today with long hair, gel, spiked and graduated short back and sides," he said.