Drone search for missing man Dean Patton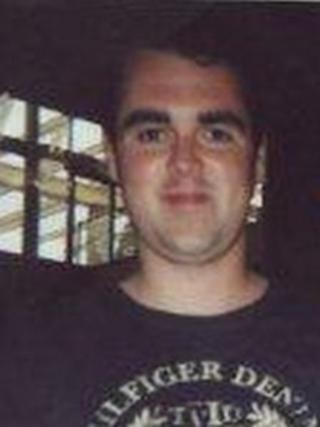 A small drone aircraft was used in the search for a missing person in Northern Ireland on Friday.
Dean Patton, 24, from Portrush has been missing since 24 July and the search was mounted at the request of his family.
The drone, an unmanned mini-plane, was operated by the Sky Watch charity.
It is believed it is the first time that a drone has been deployed in a missing person search in Northern Ireland.
The drone searched the coastline near Portrush just after first light, and at low tide, video recording high definition images of Ramore head from three different altitudes.
It also recorded 100 metres out to sea, cliff faces and cliff ledges.
The images have been handed over to police in Coleraine for analysis.
Sky Watch does not do any analysis of the recordings they make.
It has been one month since Dean was last seen by friends and family.
He has had no contact with anyone since.
'Devastated'
Dean's uncle Gerry said Dean's parents John and Linda are "devastated" by the situation.
He has hailed the help offered by Sky Watch in trying to find Dean.
The input of the charity to the search operation came about by chance.
Sky Watch's Paul Trimble was staying in Portrush with his family over the weekend.
He was aware of the hunt for Dean having followed the case in the media.
Paul discovered Gerry was staying in a caravan site in the town and went to meet him and offer the charity's services.
Sky Watch has been operating elsewhere in the UK for 10 years.
Pilots and aircrew provide their time and aircraft free of charge, keeping running costs low.
The charity's plane was used in the search for Joby Murphy and Samuel Campbell earlier this year but Friday is the first time drones have been used.
Paul Trimble said Sky Watch had a full size aircraft and a number of drones.
Benefit
"I brought Sky Watch here about two years ago and it has taken that time to get it fully established," he said.
"The drones are totally different to military drones.
"I developed these myself.
"They are basically high-end model airplanes with auto-pilot and high-definition cameras."
Paul said the drones were "fully approved by the Civil Aviation Authority".
"Our drones are thousands of pounds, the military ones are hundreds of thousands of pounds," he said.
"We can fly 24/7 in almost all weather except dense fog.
"So, when the police air support unit is grounded due to low cloud, we can fly.
"That's where the benefit is."