Dungannon student cook lands top job with Raymond Blanc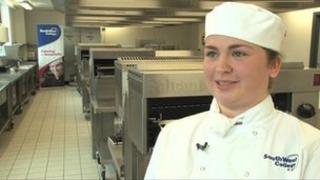 A student from Dungannon is cooking up a storm that has landed her a job at a two-Michelin starred restaurant.
Lauren Beavers, 20, won a competition for a scholarship to Raymond Blanc's Le Manoir aux Quat'Saisons in Oxfordshire.
It was her first experience of working in a top professional restaurant prepping, cooking and plating up for restaurant customers.
She said: "He gave me a chance to be the last man to see the dishes so I was looking at the dishes and doing the final check before they went out to the customer.
"He thought I'd picked out all the wee bits they would pick out as well so he was quite impressed."
As well as service for 100 customers who have to wait over three-months to book a table, Lauren got the opportunity to cook for Raymond Blanc himself.
She said: "It was an unbelievable experience to get a chance to cook for such a great well-known chef and he was pleased with what I'd done and impressed with what I had cooked so I was very pleased with that."
He was so impressed, in fact, that he offered Lauren a job.
He wanted her to start work at Le Manoir straight away, but Lauren has decided to return to South West College in Dungannon to complete her qualifications.
Head of catering at the college, Suzanne Workman, said they were very proud of Lauren's achievements.
"They said her palate was well developed beyond her years, they said her attitude to work was exceptional and whenever she visited and worked in Le Manoir they said she was just exceptional.
"To get that calibre of a job offered to her is really quite an amazing testimony to all her hard work but also the hard work of all the team of staff in South West College who are very, very passionate about the training that they deliver to the students."
Lauren has so impressed the team at Le Manoir that the restaurant has offered placements to two students each year from South West College to help them get a foot through the kitchen door.
But for now anyone wanting to sample Lauren's culinary skills will have to go to the restaurant at South West College.