Man hopes to reach Torr Head in North Channel swim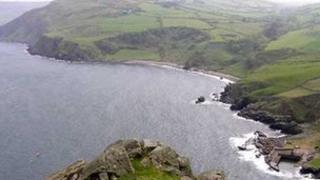 A South African man is hoping to become the first person ever to swim from the Mull of Kintyre in Scotland to the north Antrim coast in Northern Ireland.
Wayne Soutter, who now lives and works in England, set off on the 17km (10.5 mile) North Channel swim at 06:00 BST on Sunday.
The 43-year-old is hoping to travel from the southwest tip of Scotland to Torr Head in County Antrim.
It is a route which many endurance swimmers have failed to conquer.
His training has included a one-hour swim off the Northern Ireland coast which has allowed him to gauge currents and test his resilience to jellyfish stings.
Speaking about this session, he said: "It was, as expected, fairly cold but working hard enough you managed to keep warm.
"What was a little unexpected was the huge number of jellyfish I saw, about one jellyfish every minute. Now and again some of them were closer to the surface and I had to swim around them.
"The water was good for a fairly calm day, but sometimes we got into a bit of rough water and that made hard work of it. Overall it was good - I'm encouraged."
Wayne, who is hoping to raise money for the Community Rescue Service, conquered the English Channel on his first attempt in 2012.
Sean McCarry, regional commander of the Community Rescue Service, said it would be the most difficult swim that Wayne would undertake in his lifetime.
"He will be in the water for 8-10 hours and will have to contend with rip tides, jellyfish and possibly rough waters. To get to this level of fitness requires great determination."