Paralympics: Meet the Northern Ireland athletes taking part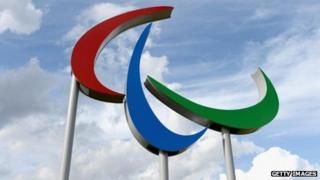 Eight athletes from Northern Ireland, representing five different sports, are taking part in the 2012 Paralympic Games.
The competition takes place in London from 29 August to 9 September.
The first Paralympic Games in 1948 were organised by Dr Ludwig Guttmann in Stoke Mandeville, and were attended by war veterans with spinal injuries.
Northern Ireland has a rich history in the Paralympic games.
One of its most successful athletes is Angela Hendra, who has seven medals.
She won three silver and three bronze for table tennis and one gold medal for bowls - from four Paralympic Games between 1972 and 1984.
At London 2012, two athletes from Northern Ireland are competing for Team GB and six are competing for Team Ireland.
James Brown
Portaferry man James Brown is no stranger to the Paralympic Games. Having competed in a total of five winter and summer Paralympics across a range of sports James is well used to performing on the big stage.
On 5 September he made it six Paralympic Games medals for Northern Ireland athletes by taking bronze in cycling's tandem road time trial on Wednesday.
Brown and his sighted pilot Damien Shaw clocked 31:13.00 to secure the medal at Brands Hatch.
He had previously missed out on a medal after finishing fourth in the 4km pursuit event on 30 August.
Visually-impaired cyclist Brown, 47, and his Irish tandem partner Damien Shaw were pipped by the Spanish pair in the bronze medal race.
Sally Brown
Sprinter Sally Brown from Ballykelly is representing Team GB on the track at London 2012.
On 5 September she finished sixth in the 100m final.
She had previously narrowly missed out on a place in the women's 200m T46 200m final (single arm amputee).
The 17-year-old, who trains at Springwell Running Club in Coleraine, was born missing her left hand and part of her arm.
She was one of 10 contenders for the 2011 BBC Young Sports Personality of the Year awards and also carried the Olympic torch on its visit to Northern Ireland.
The talented teenager won two bronze medals at the recent European Championships in the Netherlands.
Eilish Byrne
Eilish Byrne from Armagh is returning to the arena with her horse, Youri, as the most experienced member of the equestrian team as they compete in their second Paralympic Games.
The duo are competeing in the individual test and freestyle events.
On Saturday, they finished fifth in the individual dressage final at Greenwich Park.
In addition, Eilish and Youri are competing in the team event, as the Irish equestrian team makes its first ever appearance at the Paralympic Games.
Bethany Firth
County Down swimmer Bethany Firth won a gold medal at the Paralympics on Friday by winning the the 100m backstroke final in London.
After only three years of competitive swimming, the Seaforde teenager is making her Paralympic debut for Team Ireland at the 2012 Games. She is competing in the S14 class (learning disability).
Bethany, 16, is helping to make history as the Paralympic family opens its doors to athletes with a learning disability for the first time since 2000.
However, she has struggled with a shoulder injury over the last few months, which was aggravated during her winning race on Friday night.
The teenager had planned to compete in the 200m freestyle event on Sunday, but retired on doctor's advice.
She hopes to be fit enough by Thursday to compete in the 100m breaststroke.
Although relatively new to the international arena, Bethany had already claimed her first international medal ahead of London 201, taking silver at the 2011 European Championships.
Laurence McGivern
S9 swimmer (double amputee) Laurence McGivern from Rostrevor kept everyone guessing until the last minute, securing his qualification for the Games at the very last meet of the selection period.
Laurence, who first came to DSNI's attention as a 10-year-old swimming with Newry and Mourne Sportsability, has been involved in competitive swimming for almost nine years and is making his Paralympic debut in London.
He came eighth in the 100m backstroke final of the S9 class on Friday evening.
He took almost two seconds off his personal best in the heats and qualified sixth for the final.
Michael McKillop
The 22-year-old, from Glengormley in County Antrim, has won two gold medals at the 2012 Paraylmpics and is now the world's greatest Paralympic middle-distance runner.
He stormed to victory in the Men's T32 800m on Saturday night, setting a new world record as he crossing the finish line in a time of 1.57.22.
He clinched his second gold medal on Monday evening, winning the T37 1500m final and setting a new Paralympic record.
Michael McKillop, who is coached by his father Paddy, has a mild form of cerebral palsy.
He was already one of Ireland's most successful athletes before the 2012 Paralympics began.
He travelled to London as the reigning T37 800m Paralympic Champion, double world champion and world record holder over 800m & 1500m.
Since the Beijing Games in 2008, Michael has gone from strength to strength.
In June 2012 he added the Irish U23 able-bodied title to his string of achievements.
Jason Smyth
Sprinter Jason Smyth won gold for Team Ireland and set a new world record in the Men's T13 (partially sighted) 100m final in London on Saturday night.
The 25 year old shot to fame in Beijing after winning gold in the T13 100m and 200m events.
Dubbed the Usain Bolt of the Paralympic world, he has gone on to dominate the track ever since, and has been called "the fastest Paralympian on earth".
The Eglinton man, who has been training in Florida alongside US sprinter Tyson Gay, narrowly missed out on Olympic Qualification 'A' standard for the 2012 Olympic Games, but is undoubtedly in the best shape of his life.
All eyes will be on Jason as he aims to bring home not just one but two Paralympic gold medals.
Sharon Vennard
Greyabbey woman Sharon Vennard has been representing Northern Ireland in archery since 1998, training and competing locally with City of Belfast Archers.
The 50-year-old, who has ostoearthritis, is competing in her first Paralympics.
She produced a steady performance to qualify sixth in the opening ranking round at the women's individual recurve archery event.
However, she lost to her Chinese opponent in the quarter finals on Sunday.
Vennard will be back in action for Britain in the team event on Wednesday.