Ground Zero architect Daniel Libeskind joining Maze team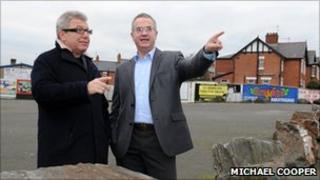 One of the world's leading architects will be part of the team working on the design of the new peace building centre on the site of the former Maze jail.
The Polish American Daniel Libeskind was asked to join the team by McAdam Design of Belfast.
Earlier this year the European Union approved an £18m bid for funding for the conflict transformation centre.
The Maze prison housed paramilitary prisoners during the Troubles in Northern Ireland from 1971.
The prison, where 10 men died in the 1981 republican hunger strikes, closed in 2000.
A conflict resolution centre is due to be built on the grounds of the former H-blocks.
Daniel Libeskind, came to international prominence when he designed the Jewish Museum in Berlin - a twisted zig zag building described by some critics as iconic.
Then in 2003 he won a competition to oversee the Master Plan for the buildings and memorials to be erected on New York's Ground Zero - his Memory Foundations plan sought to achieve a balance between honouring those who died in the World Trade Centre on 11 September 2001 and symbolising new hope for the city.
Mr Libeskind is no stranger to Northern Ireland. In 2011 he agreed to help select designers to work on the redevelopment of the former Andersonstown police station in west Belfast.
In 2009 he received an honorary degree from the University of Ulster, when he expressed his admiration for Belfast's transformation, calling the city an incredible place.