15-year-old boy accused of stabbing friend after taking drugs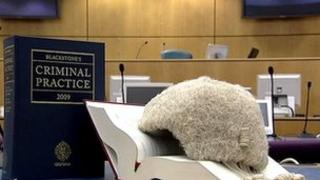 A 15-year-old boy allegedly plunged a knife into his friend's chest after bingeing on drugs at a holiday home in County Down, Belfast High Court has been told.
He attacked the 19-year-old victim in Killough village early on 19 August 2012 after taking up to 40 pills in 48 hours, it was claimed.
The accused, who cannot be named because of his age, faces charges of attempted murder, possession of an offensive weapon with intent, and two counts of criminal damage.
The victim later underwent surgery for a punctured lung at the Royal Victoria Hospital in Belfast.
Lord Justice Coghlin described the alleged stabbing as "an absolutely frenetic attack on another person, bringing him close to death".
The accused was bailed on condition that he had no contact with either the injured party or another friend who was at the scene.