Wayne Soutter makes history with North Channel swim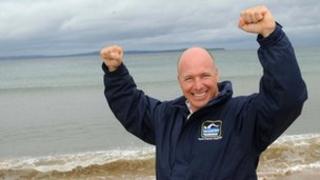 A South African man has become the first person ever to swim from the Mull of Kintyre in Scotland to the north Antrim coast in Northern Ireland.
Wayne Soutter, 43, who now lives and works in England, set off on the North Channel swim at 11:19 BST on Sunday.
He came ashore at Kenbane Head between Ballycastle and Ballintoy shortly before 23:30 BST on Sunday.
He was then taken to Ballycastle harbour to a welcoming reception.
Wayne told Good Morning Ulster why he had decided to embark on the swim and recalled the conditions he encountered.
"I thought it was interesting to try something that had never been done," he said.
"I was not afraid before the swim, but about halfway through the swim I really started getting quite scared.
"The tides and the winds were ferocious, there were times the boat was spinning in 180 degree circles.
"The tides were crossing each other and spinning the boat around."
He said he struggled with the cold conditions which he experienced.
"When you get cold, you get depressed and it was so hard," he added.
"At one point I was feeling so down, the only way to feel better was to swim harder."
His training had included a one-hour swim off the Northern Ireland coast which had allowed him to gauge currents and test his resilience to jellyfish stings.
"There were times I was in a field of jellyfish, everywhere I looked there were jellyfish," he said.
"I just had to put my head down and swim through them it was awful."
Wayne, was raising money for the Community Rescue Service, through his swim. He conquered the English Channel on his first attempt in 2012.
Apart from the aforementioned jellyfish, the South African had to battle six feet waves as he approached his destination. The swim should be about 20 km in length if taken in a straight direction, but due to the the nature of the tide it was about 45km.