Belfast city centre road improvements prompt travel warning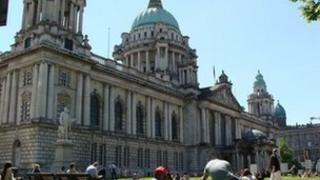 Motorists have been warned to allow extra travel time in Belfast city centre due to a number of road improvement works.
Bus lanes are now operational in Oxford Street and East Bridge Street.
Bus priority measures are being extended into May Street, Donegall Square South and Howard Street during September.
Road resurfacing will begin on those three streets on Sunday. It is expected to last for around two weeks.
Roads Service said the work would be carried out at off-peak times to reduce traffic disruption.
It said that after resurfacing and the provision of appropriate signing, the bus lane would become operational, accommodating public transport, cyclists, motorcycles and permitted taxis from 07:00 to 19:00 BST. Electronic signing at key points will advise of the works and possible delays.
Roads Service said 60% of traffic currently using the streets at the front and back of City Hall is through traffic with no destination within the city centre.
It has urged drivers who do not need to travel via the city centre to use alternative routes such as the M3, Westlink and the Outer Ring Road (A55).
It said motorists in the city centre should take extra care while they familiarise themselves with the new traffic management arrangements.