Belfast vandals leave 6,000 without electricity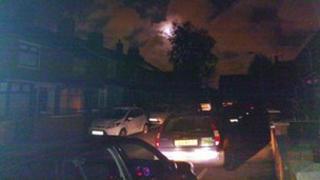 Vandals who broke into an electricity substation in north Belfast left 6,000 properties without power, Northern Ireland Electricity (NIE) has said.
The company said the substation at Ballysillan was vandalised on Sunday and again on Monday evening after it had been repaired.
An NIE emergency response vehicle was damaged as engineers worked to restore supplies to the area.
A spokesman said supplies were restored within two hours on both occasions.
During the first incident on Sunday, the vandals interfered with equipment causing a power failure in 6,000 properties.
Condemned
Additional security installed by NIE engineers failed to deter the gang who left 4,000 premises without electricity on Sunday.
The deliberate interference with the substation's electricity equipment was condemned by NIE safety manger Kevin McDowell.
"Our priority is the safety of the general public and our employees," Mr McDowell said.
"These vandals are risking their own and other peoples' lives by breaking into this substation. There is live high voltage equipment inside, and interfering with it can be unforgiving.
"They are also causing great inconvenience to the local community who are left without electricity.
"We would urge anyone with information on this incident to contact the PSNI or if you see any further suspicious activity around electricity substations or electrical equipment contact NIE on 08457 643643."