Third lottery winner yet to claim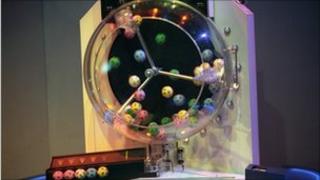 A third substantial National Lottery prize is so far going unclaimed in Northern Ireland.
Operator Camelot has already put out appeals for owners of tickets worth over £4m and a £1m prize.
The latest unclaimed prize is worth £73,263, winning the 5 plus bonus prize on the draw of 11 August, 2012.
The winning numbers were 1, 5, 14, 18, 34, 44 and the bonus ball was 23. The ticket-holder has until Thursday, 7 February, 2013, to claim their prize.
The two outstanding tickets that will make their owners millionaires remain unclaimed despite recent appeals by Camelot.
A ticket for the Euromillions draw on Friday 3 August won the millionaire raffle.
It was bought in the Fermanagh, South Tyrone area.
For every EuroMillions line, UK players automatically receive a millionaire raffle selection printed on their ticket. The winning selection on 3 August was GCR760097.
The ticket-holder has until Wednesday 30 January, 2013, to claim their prize.
'Desperate'
A lottery ticket worth £4,392,003 was bought in County Down for the draw on Saturday, 2 June, 2012.
The winning numbers were 16, 18, 20, 25, 29, 34 and the bonus ball 15. The deadline for claiming the prize is 29 November, 2012.
A national lottery spokesperson said: "We're desperate to find these mystery ticket-holders in Northern Ireland and unite them with their winnings - these amazing prizes will really make a huge difference to somebody's life.
"We're urging everyone to check their old tickets again or look anywhere a missing ticket could be hiding."
The biggest prize that has gone unclaimed in Northern Ireland was £7m for a ticket bought in Belfast.
All the money from unclaimed prizes, plus the interest generated, goes to The National Lottery Good Causes - adding to the £28bn already raised since The National Lottery launched in November 1994.