Monkstown bus service halted after robberies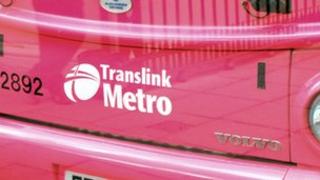 Metro bus drivers are withdrawing their evening service from the Monkstown estate in Newtownabbey from 19:00 BST on Wednesday, the Unite Union has said.
The drivers said they feared for their safety after masked men robbed a driver at Devenish Drive on Tuesday.
Unite said it was the second time in a month that a driver was robbed.
The drivers' employer, Translink, said management representatives would be meeting the union and community leaders to discuss the situation.
Unite spokesman Michael Dornan said the union regretted the move but drivers did not have a choice.
'Attacks'
"We have in the past received assurances about our safety, yet these attacks continue," he said.
"These people who are carrying out these attacks would be known as they are from the area, it's therefore up to the local community to give the necessary information to the PSNI so they can deal with them
"There should be no place in any decent working class community for these type of people.
"Unless they are stopped, they will intensify their anti-social behaviour and who knows what or who would be next, probably the most vulnerable people from within the actual community.
"We are hoping to set up a meeting with the local community leaders and the PSNI to see what can be done, but unfortunately the services will be withdrawn from this evening from that area."
Detectives have appealed for anyone with information about the robberies to contact them.