Target express: Haulage firm goes into liquidation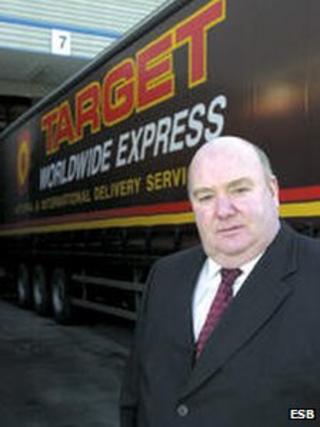 Target Express is being liquidated in the Republic of Ireland and being put into administration in Northern Ireland.
The court appointed liquidators for the Republic are from Grant Thornton.
Target Express is one of the largest privately owned haulage companies on the island of Ireland.
It has emerged that up to 150 jobs in the UK - most in Northern Ireland - and 300 in the Irish Republic, will be affected by the firm's collapse.
A spokesperson for former workers engaged in a sit-in at the Cork depot has said the protest will for now remain in place.
"We are not going to be vacate the building until we know more," Tom Cullen said.
"Are assets going to be moved from here to Northern Ireland? We don't want any assets to be moved and put into operation again. We are steadfast and are not moving from the building tonight."
Target Express has an extensive network of UK depots including bases at Newry, Londonderry, Lisnaskea, Nutts Corner and Cookstown in Northern Ireland.
In England there are bases in London, Birmingham and Manchester.
Its founder and director, Fermanagh businessman Seamus McBrien has repeated his claim that the actions of the tax authorities in the Republic forced the collapse of the company.
Mr McBrien told the BBC: "The banks have been told to freeze accounts by the revenue commissioners and that is the reason staff have stopped getting paid.
"I have put that on the record and do not intend to add to it. Again I want to thank our staff.
"I am terribly terribly sorry for all our staff. I want to thank them and tell how sorry I am that but this is not my fault.
"All our customers will find alternative companies to use and as far as I am concerned the company is finished. This is the end of the company and everything is gone."
He said Target Express had 150 workers on its sterling payroll and added that he expects administrators to be appointed soon.
RTE is reporting that workers staging a sit-in at the Cork depot of Target Express have strongly disputed the contention by Mr McBrien that the company is solvent.
In a statement on Wednesday morning, the workers said it was not their view that Target Express was closed down by Revenue.
They said they had questions about the financial state of the company and are anxious to be paid outstanding wages.
A spokesperson for the Revenue Commissioners in the Republic said it does not comment on the tax affairs any particular business or individual.
He said: "In general, cases are referred by Revenue for enforcement where a taxpayer or business has failed to comply with the obligation to pay tax that is due and where there are no satisfactory proposals towards addressing the debt.
"Revenue only pursues enforcement options after specific engagement with the business, and enforcement options like liquidation, bankruptcy and attachment are only used as a last resort in cases where the debt problem is serious and intractable."
It is understood the Revenue Commissioners in the Irish Republic placed attachments on the company's bank accounts last Friday.
Despite ongoing negotiations, the issues could not be resolved.
Meanwhile, a Sinn Fein councillor in Cork has accused Seamus McBrien of "trying to do a (Sean) Quinn but the problem is that he's not Quinn".
Chris O'Leary made the remark from the Little Island depot where 16 Target Express workers are continuing a sit-in.
"Blaming someone else, in this case revenue is an easy option," Mr O'Leary said. "But his workers are entitled to respect, they have been loyal to him and have been left with nothing."
"A lot of questions are still unanswered. How can you give people cheques that bounce, how can you allow your staff to fill up company trucks with diesel out of their own pocket and not get paid, I would describe this as reckless."
"With all respect times are tough but people have gone without wages for the last two weeks and dire straits."