Northern Ireland racer Trevor Ferguson dies in Manx crash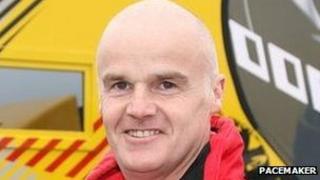 Northern Ireland motorcyclist Trevor Ferguson has been killed in a crash during a race at the Manx Grand Prix on the Isle of Man.
The 48-year-old shop-owner, from Castlecaulfield in County Tyrone, was married with three children.
He was a former winner of six Irish National Road races.
Mr Ferguson was the uncle of fellow road racer Ryan Farquhar. An investigation into the accident is under way.
The crash happened at 'The Nook' on the approach to Governors Dip.
Harvey Garton, chairman of the Manx Motor Cycle Club, said: "Trevor was a major part of the Manx Grand Prix family and his support for the event was hugely appreciated.
"He was a very committed rider who loved racing around the Mountain Course on the Isle of Man and was enjoying a strong race today.
"On behalf of the Manx Motor Cycle Club I would like to extend my deepest sympathy to his family and friends."