Rapist Edward Connors fails to turn up in Dublin court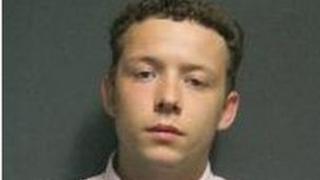 Irish police are looking for a convicted teenage rapist from Northern Ireland who failed to appear in court on Wednesday.
Edward Connors, 19, was jailed after raping an American tourist in west Belfast four years ago when he was 15.
Connors was released from prison earlier this year after serving four years of an eight-year sentence.
He failed to turn up at court in Belfast in July.
He was later arrested in Dublin where he was charged with failing to notify the authorities of his name, address and date of birth under the Sex Offenders Act. He was granted bail.
A bench warrant was issued by Dublin District Court on Wednesday, after his case was called and his solicitor said she had not seen her client.