Carrickhill residents call for 'respect' over Belfast parade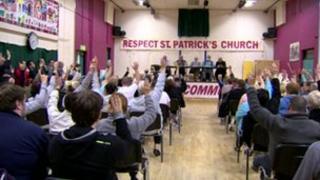 Residents of a north Belfast estate, angered by the actions of loyalist bands parading past a Catholic Church, have said they want respect from the Loyal Orders, not re-routing.
Several bands defied Parades Commission rulings as they passed St Patrick's Church on Donegall Street on Saturday.
Over 100 people attended a public meeting about the parade on Thursday.
Carrickhill residents called on the marchers to show the church and their community "the respect they deserve".
Seven police officers were injured when minor trouble broke out as the bands passed St Patrick's on Saturday afternoon.
The Parades Commission had ruled that loyalist bands were not to play music as they passed the church, after one band from the Shankill Road was filmed parading in circles outside St Patrick's while playing a contentious song on 12 July.
'Place of worship'
Two members of the commission attended the meeting at a community hall in Carrickhill on Thursday evening, and listened to residents' concerns.
Frank Dempsey from Carrickhill Residents Association said he was unsure if agreement could be reached.
"I honestly don't know because of what has taken place outside that church.
"I want to hear from the unionist politicians and loyal orders - give this community and this place of worship the respect they deserve. It's not a lot to ask," Mr Dempsey said.
The parish priest at St Patrick's, Fr Michael Sheehan, also attended the meeting
He said: "The situation here could be settled, it could resolved - and its simply to show respect.
"If that could be done, between the community, and with us as a parish and the loyal orders, then I think that we will be able to show other situations and other people that communities can come together, can agree," Fr Sheehan added.
'Real anger'
Mr Dempsey added: "All we asked for from the very beginning was that the music was stopped at the Westlink, at the start of Carrickhill, and then recommenced at Union Street, and I think that way, everyone can get on with their lives."
Douglas Bain from the Parades Commission said he intended to report back to his colleagues the "very strongly held views and the real anger and concerns" that the residents had expressed during the meeting.
"That will help us in reaching any determination we have to make about further parades here," Mr Bain said.
Earlier on Thursday, Sinn Fein had called on the loyal orders to reroute parades away from St Patrick's for the remainder of the marching season.
The DUP's Nelson McCausland and Nigel Dodds have both said there is a lot of anger within the unionist community about recent Parades Commission rulings.