Target Express workers end Cork sit-in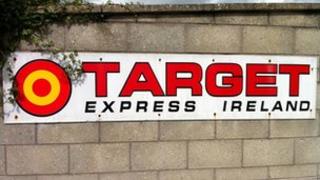 Former workers at a Target Express depot in Cork have ended their sit-in.
The workers had pledged to continue their protest until are paid what they are owed.
The haulage company ceased operating on Monday. It is being liquidated in the Irish Republic and being put into administration in Northern Ireland.
Liquidators held meetings with employees at a number of locations on Thursday.
Earlier, Irish Communications Minister Pat Rabbitte said the manner in which the collapse of Target Express was handled was completely unacceptable.
Last week, the Revenue Commissioners attached the company's bank accounts.
In addition, the tax authorities wrote to key Target Express customers instructing them to pay any monies due directly to Revenue and not to the company.
Mr Rabbitte said the Irish government had no idea the company was at risk, and he was "completely taken aback" when he heard it was shutting down on Monday.
Speaking on RTE's Morning Ireland, Mr Rabbitte criticised the lack of communication with Target workers and said it was a tragedy that 390 people would lose their jobs.
However, he said the efficacy of the tax system was sacrosanct and that in his experience the Revenue Commissioners always tried to ensure the retention of employment when companies made a reasonable and credible case.