Confidential papers from Foyle College found on road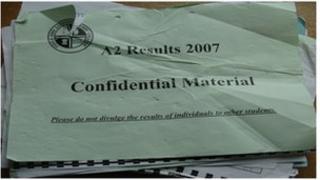 A Londonderry grammar school is investigating a breach of student confidentiality after dozens of confidential reports ended up strewn all over one of the city's main roads.
One of the documents recommended a student should not be allowed to do A-level PE.
The reports marked "confidential material" were found along the Northland Road on Thursday afternoon.
Patrick Allen, principal of Foyle College, has said they will investigate.
Foyle and Londonderry College is the city's oldest grammar school. It currently has two campuses on the Northland Road in the city.
The documents were found scattered along the road, which connects the campuses, on Thursday afternoon.
It has not yet been established how the documents got there.
The BBC has obtained more than 40 A4 pages which show the exam results, in many different subjects of dozens of students.
In most of the cases, they give the names of the students and the straight-forward results.
In some cases, however, the documents are quite detailed and contain assessments of individual students' performance.
One documents refers to a young man who is a well-known sporting figure in the North-West.
The document, from the head of PE in 2007, recommends that he should not be allowed to do his A-level PE.
The reason the head of PE cites is that he had achieved low grades; "through minimum effort and with a relatively poor attendance record", and had only turned up for less than a third of the head of PE's classes. Another pupil is named in the same document.
BBC Radio Foyle has spoken to the student in question. He is surprised about the assessment of his performance.
A year after that report he went on to captain a school team, and represent his country at under-age level.
The new principal of the school, Patrick Allen, has confirmed that he is aware of the discovery and that the school would investigate the matter.