James Boyce sentenced over Belfast parade disorder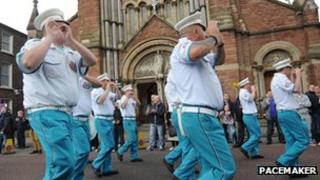 A man from Scotland, who ran through a protest that had been staged against a Loyal Orders parade in Belfast, has been given a suspended jail sentence.
Seven police officers were injured when disorder broke out as loyalist bands passed a Catholic church on Donegall Street on Saturday 25 August.
James Boyce, from Ben Vorlich Drive in Glasgow, pleaded guilty to carrying out a provocative act.
He was sentenced to three months in prison, suspended for 18 months.
He was also ordered to pay £100 in fines and fees.
The marchers were taking part in the annual Royal Black Institution demonstration in the city, but several bands defied Parades Commission restrictions as they marched past St Patrick's Church.
The restrictions were imposed after one loyalist band, The Young Conway Volunteers, was filmed marching in circles outside the church on 12 July, while playing The Famine Song, an anti-Catholic song judged racist by a court in Scotland.
The band insisted they were playing a Beach Boys song, and said it was "pure chance" that they came to a halt outside the church.
The commission had ruled that the The Young Conway Volunteers were not to march past St Patrick's again on Saturday, and no band was to play music outside the church, but both determinations were breached.
CCTV
Boyce, a 38-year-old lift equipment inspector, was arrested as the trouble broke out on Saturday.
The father-of-two initially claimed that he just happened to come behind a protest by residents in the area.
According to police, Boyce was identified on CCTV footage from the scene.
It emerged in court earlier this week that he travels to Northern Ireland up to four times a year to attend parades.
He had been due to make an application for High Court bail, but a barrister confirmed the application could be struck out because his case had been dealt with.
A Courts Service spokeswoman confirmed Boyce was sentenced on Friday after appearing before magistrates by video link and pleading guilty to the offence.
A second charge against him of disorderly behaviour was withdrawn.