Photograph allegedly shows shooting accused holding gun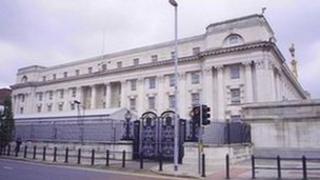 A student charged over a paramilitary-style punishment shooting had a photo in his phone allegedly showing him holding the gun used, the High Court heard.
The prosecution said facial mapping techniques confirmed Tiernan Porter was also depicted in pictures wearing a camouflage jacket and gloves.
The 21-year-old, of Glasvey Walk, Dunmurry, faces a number of charges including possessing a gun.
He denies the offences.
Mr Porter is also charged with possession of ammunition, articles for use in terrorism and causing grievous bodily harm with intent.
He claims he was forced to go with masked men to the home of their target under duress.
The victim, a suspected drug dealer, suffered gunshot wounds to his thigh and ankle in the attack in the Twinbrook area of west Belfast in May 2010.
Prosecution lawyer, Philip Henry, said Mr Porter gave a statement claiming he was threatened with being shot if he did not comply with the gang.
Charges were brought against him following an examination of his mobile phone earlier this year.
Mr Henry said experts have concluded that Mr Porter could be seen in one photograph holding the actual semi-automatic pistol used in the punishment attack.
Bail refused
It was claimed the picture was taken on a separate occasion in the accused's bedroom.
Defence counsel Tom McCreanor questioned why his client would have been the only one to arrive unmasked at the scene of the shooting if he planned to be involved.
"On his case he was forced to knock the door and (the victim) was present," the barrister said.
It was also disclosed that Mr Porter is studying at Belfast Metropolitan College and involved in cross-community theatre activities.
Mr McCreanor said: "He has no history of any involvement in any type of criminality."
Bail was refused, however, due to concerns about possible re-offending.
After acknowledging the defence submissions, Mr Justice Deeny said: "I do not think I can share his confidence that if this man was on bail he would not be drawn into further activities on behalf of whatever group he appears to have been adhered to."