Dame Mary Peters celebrates 40 years since Olympic gold medal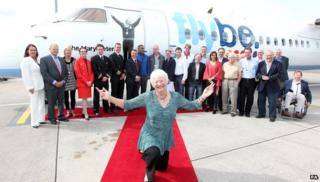 Several well-known Olympic medallists have travelled to Belfast to pay tribute to Dame Mary Peters on the 40th anniversary of her gold medal victory.
Dame Kelly Holmes, Duncan Goodhew and Daley Thompson attended a surprise event at Belfast City Airport where a Flybe aircraft was named in her honour.
The 73-year-old, who won gold in the Women's Pentathlon in 1972, said she was "overwhelmed" by the tribute.
The Olympians attended a celebration at the Grand Opera House on Sunday.
'Shaking with shock'
Other medallists present at the airport unveiling were; long jump champion Lynn Davies; hockey players Stephen Martin, Jimmy Kirkwood and Sean Kerly; boxer Hugh Russell and Coleraine rower Alan Campbell.
The aircraft tribute features a life-size image of the athlete, pictured standing on the podium after the medal ceremony.
The picture was originally taken by her father on 3 September 1972.
Alongside the image is the name of the aircraft, the Dame Mary Peters.
Speaking after the unveiling, Dame Mary said: "It's just amazing. I'm absolutely shaking with shock and surprise and joy. Sharing this with all my friends and - 40 years on - the gold medal still shines doesn't it?"
Double Olympic champion Dame Kelly Holmes said: "Mary was so chuffed and surprised.
"She had no idea that she's going to be splashed high up in the skies on a plane and I think its just a great honour.
"She has brought real pride to Northern Ireland and this is part of the way of saying thank you."
Hours of practice
Dame Mary Peters was born in 1939 in Halewood near Liverpool.
Her father travelled to Northern Ireland every week for work and soon the family moved to live in Portadown, County Armagh.
Her athletic potential was spotted by the headmaster at Portadown College.
Her talents were honed through hours of practice at the Belfast track which now bears her name.
In an earlier interview, the athlete recalled: "I used to have to get two buses into Belfast city centre and then another to the track carrying my shot, which weighed four kilos, and my starting blocks."
"The track was full of pot-holes. It wasn't the ideal place to come but it was the only place we had."
The track is currently undergoing an upgrade which is scheduled to be completed by the end of 2012.
Mary competed in three Olympic Games and five Commonwealth games, her first when she was 18 years old.