Golden times for Northern Ireland Paralympic competitors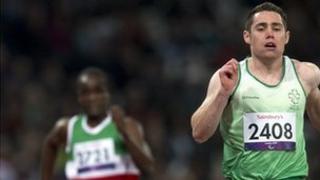 As another day dawns at the London 2012 Paralympic Games, competitors from Northern Ireland now know for certain they are capable of winning gold, gold, gold.
Team Ireland's first gold medal winner was 16-year-old Bethany Firth from Seaforde. Depending on the progress of a shoulder injury, she could be back in the pool on Sunday for the 200m freestyle event.
If any observers had held any lingering doubts about her abilities in the final of the 100m backstroke on Friday night, her blistering performance to come back from fourth place has dispelled them.
As her father Peter said: "She just enjoys swimming, and if she feels she's giving a good performance, that's reward for her."
But "Bethy" as her family calls her is different now, for she also knows what it is like to have a gold medal hanging around her neck.
That achievement will have given hope to all the friends and family of Northern Ireland's Paralympians walking steadily out of Stratford station each morning.
They climb the wide flight of steps and cross a bridge into the huge Westfield Shopping Centre, before swinging left towards the Olympic park itself.
At each stage they are jollied along by the purple and red uniformed volunteers, some of them sitting on high chairs with megaphones, and trying to outdo each other with witty advice to the fans.
And on Sunday, they walk in with more gold on their minds, thanks to Team Ireland's track and field stars.
Broken records
After breezing through his T13 100m heat on Friday night, Eglinton's Jason Smyth lined up for the final to defend his Paralympic title, eventually running a new world record of 10.46 seconds for gold.
He said "To be in that stadium with 80,000 people, half of them seeming like they're Irish cheering, and even the British were really supportive, makes the whole games a lot better."
And the records kept falling.
Michael McKillop from Glengormley played his part too, smashing the world record in the T37 800m.
He ran a time of 1.57.22, taking 1.68 seconds of his personal best and leaving the opposition far behind.
The television pictures of his father and coach Paddy celebrating the win will live long in the memory.
It was harder for Team GB's Sally Brown from Ballykelly, who had failed to qualify for the 200m final due to an infection which made her run well below her best in the heats. She was watching instead of running on Saturday night, but will be back to compete in the 100m later this week.
Her father Richard told the BBC she knows that the games in Rio lie ahead.
"That's always on Sally's radar, she knows that's when she's going to be possibly at her strongest and this is a step towards that," he said.
Meanwhile Team GB's Sharon Vennard has been busy in archery, shooting at the Royal Artillery Barracks in Greenwich, and supported by her husband Norman.
Engineering genius
In the Individual Recurve Standing on Saturday she defeated her Mongolian opponent 6-2 to reach the Sunday's quarter-finals.
The less blustery weather has helped her since the early rounds but so too has some engineering genius from Belfast.
Norman is an IT manager for Shorts Bombardier, and Sharon had asked him if his engineering colleagues might be able to improve on the stool she uses when she is competing.
But they did better than that, visiting the couple at their Greyabbey home and taking a series of detailed measurements. Before long Sharon had a new precision titanium instrument to help her in her competitions.
After competing this weekend, Sharon hopes to take a day this week to visit the rest of the Paralympic site.
And Portaferry man James Brown will be back on his tandem for much of the time.
After disappointment last week, where he and partner Damien Shaw were pipped for bronze in the Individual Pursuit B competition at the Velodrome, his best event, he returned there on Saturday for the 1km time trial, finally coming in ninth.
His wife Melanie was cheering him on, helped by son Peter, sister Heather and brother Will. Melanie had seen her husband give up cycling competition only to return to it twenty years later.
Even so, Melanie said: "He is having a fantastic time, to be at the Paralympics that I think will change Paralympics for ever, because this is the biggest and the best."
'Over the moon'
As she pointed out, his riding partner Damien Shaw was born in 1984, the year James was competing in the Paralympics in New York!
James takes part in other cycling events this coming week at Brand's Hatch.
Meanwhile Armagh's Eilish Byrne has done as much as she can for her Team Ireland colleagues.
On Saturday she improved on her Thursday team test score to finish fifth in the Individual Dressage final at Greenwich Park. With her chestnut gelding, Youri, she finished fifth in the world in the Paralympic grade II.
"I'm just over the moon" she said after the competition. "I can hardly believe it. We are all delighted."
Eilish's individual mark will be added to the team test score from Thursday to help decide Ireland's overall team placing when the remaining three riders complete their individual championships tests on Sunday.
Team Ireland currently lies in sixth place.