South Eastern Regional College 'exonerated' over claims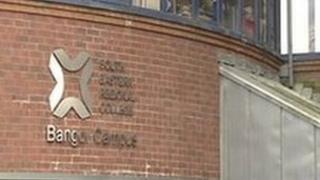 A further education college has said it has been exonerated after an investigation into alleged fraud on an apprenticeship scheme.
The South Eastern Regional College was accused by whistle-blowers of naming some staff as lecturers who were not.
It was also claimed they got payments for students who had left and wrongly marked attendance registers.
A Pricewaterhousecoopers report has found no evidence the college tried to fraudulently get government funding.
However, the report recommended improvements on the accuracy of attendance registers to avoid overpayments by the Department of Employment and Learning.
The department was criticised for ambiguities in its rules for delivering some courses.
The report also said staff were uncomfortable about making whistle-blowing allegations and that the attitude of management needed to change.
The report blamed a lack of communication for allowing some of the allegations to arise.
It also said the staff union, the University and Colleges Union, should do more to encourage staff to report any concerns directly to the college management.
The South Eastern Regional College said the investigation into "serious allegations of fraud" was complete and no evidence of fraud had been found.
The governing body said it was a very distressing time but they were pleased the college had been exonerated.
The University and Colleges Union said it made no apology for calling for an independent investigation.
It said while fraud was not detected, the report did uphold some of its allegations, for instance on the contracts issued for staff without their knowledge.
The UCU has called for the staff responsible to be disciplined. It said it did not accept the claim that government regulations were ambiguous since other colleges have not had difficulty in applying the rules correctly.