DARD being moved from Belfast to Ballykelly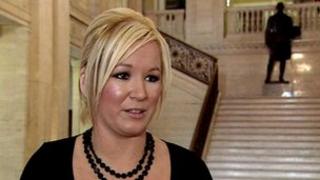 Eight hundred civil service jobs are to be moved to the north west from Belfast as the agricultural department is moving its headquarters to Ballykelly.
It will be based at the site of the former Shackleton Army barracks.
The 800 staff who will be affected are currently based at Dundonald House in east Belfast.
Work will commence on the site as early as possible in 2013/14 with the new headquarters ready for occupation during 2015.
There had been speculation that the headquarters could be moved to Cookstown, County Tyrone, or to a new centre for rural excellence at the former Maze Prison site outside Lisburn.
Agriculture Minister Michelle O'Neill said: "This is a good news announcement for the rural economy, especially the north west.
"It is a unique opportunity to relocate high quality public sector jobs outside of Belfast which over the years will bring a range of related economic and social benefits.
"One of the other big advantages of this site is that it's an executive owned site, so in terms of cost it'll bring down the whole cost in terms of being able to relocate DARD (Department of Agriculture and Rural Development).
"Also when I've been up and visited the site, some of the buildings are in first class shape so I think again it'll speed up the move and allow us to move up there on our target date which is by 2015."
She said none of the 800 civil servants would be forced to move to Ballykelly if against their will.
Mrs O'Neill said it was usual for officials to move between departments and she was confident she would get enough volunteers to staff the new headquarters.