Republicans guilty of criminal damage in jail cells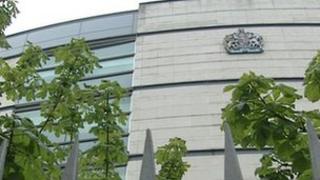 Eleven republicans, including prominent Lurgan dissident Colin Duffy, have been convicted of wrecking their cells at Maghaberry Prison.
Each was given a 20-month suspended sentence for causing criminal damage in the jail's Roe House wing.
No compensation was ordered because only three of the men are not in jail and deemed able to make a payment.
The damage was caused on 6 May 6, 2011, during a republican protest against prison conditions.
All eleven denied the charge, claiming they were protesting against forced strip-searching.
But they were found guilty at Belfast Magistrates' Court on Monday on the basis of written evidence presented to the judge.
Duffy, 44, of Forest Glade, Lurgan and two co-accused, Brendan Conway, from Rosemount Gardens, Belfast; and Damien Joseph McLaughlin, of Lake View Cottages, Dungannon, have been freed from jail in the past 15 months.
But the other men all appeared in the dock with long beards which have been grown as part of their protest.
They included John Paul Wootton and Brendan McConville, who were convicted earlier this year of murdering PSNI officer Constable Stephen Carroll in Craigavon in March 2009.
The other accused were Kevin Barry Nolan from Main Street, Blacklion; Gerard James McManus from Fernhill, Letterkenny; Mark McGuigan, Sperrin View Omagh; Sean McConville, Kilwilkie Road, Lurgan; Joseph Patrick Barr, Bridge Street, Strabane; and Harry Fitzsimmons whose address was given as HMP Maghaberry.
After the conviction, a defence lawyer read out in court a statement on behalf of all of the defendants.
It claimed that republican prisoners had reached an agreement with the Prison Service in August 2010 to end the routine use of forced strip-searching. According to the prisoners this was breached the following month.
"By May 6, 2011, less than nine months later, all legal and political efforts to bring about the end to this policy had been exhausted," the statement added.
"The republican prisoners believed they were left with no alternative but to resume their protest."
It was claimed their action was necessary to prevent continuing "inhumane and degrading treatment".
Although the judge pointed out that the offence probably merited immediate imprisonment, he said imposing such a sentence would mean treating Duffy, Conway and McLaughlin differently to those already in jail.
Instead, he suspended the 20-month term for a period of three years.