Fishy on a dishy: the rise of Sweaty Betty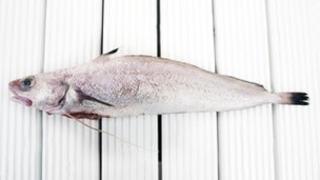 Sweaty Betty was not the easiest fish to market, confesses Galway fishmonger Stephane Griesbach.
But he persisted. And now it is a hit with the people of the west of Ireland and turns up as a delicacy on the city's restaurant menus.
"A lot of people will remember the name," shrugged Stephane, a Frenchman who runs Gannet Fishmongers.
Sweaty Betty is a local name given to the Greater Forkbeard - a deep sea fish found off the west of Ireland.
In Cornwall, the same fish is known as Plus Fours.
"The name, Sweaty Betty, is used by local crews," said Stephane.
It is not clear how the fish got its moniker ... but local Irish people are happy to vouch for its tastiness, undaunted by the nickname.
Stephane decided to sell Sweaty Betty and other lesser known Irish fish because of his belief in sustainable fishing.
He did not like to see certain fish discarded because of a perception that there wasn't a market for them and he used his skills - honed at the fish markets of Paris - to win over his Irish customers at his fish stalls and shop in Ireland.
"It takes work to sell a fish called Sweaty Betty," said Stephane, but once bitten and the customers were never shy to come back for more.
"We are trying to make the best out of a bad situation as the fishing industry is so focussed on trawling instead of more sustainable methods," said Stephane.
"So that, although we do sell cod, hake, salmon and sea bass, we also offer the more unusual fish. Octopus is discarded off the Irish coast and that market needs to be worked.
"We also sell Bluemouth - another type of deep sea fish which would have been thrown away by Irish boats. Although the Spanish would hold onto it because there is a market in Spain."
Stephane heads a cosmopolitan team with staff from France, Romania and, of course, Ireland.
His campaign to overcome Irish resistance to new kinds of fish is working.
"Galway is cosmopolitan and the small restaurants will take fish like Sweaty Betty because it is different. The large hotels know that their customers might be more reluctant to try it, so they won't buy it so easily."
Stephane's mission is to support sustainable fishing policies and avoid waste.
He has been working on a fishmongers' website to promote fish and support local fishermen and independent fish traders by increasing public knowledge on the different fish available.
Chef Michael O'Meara from Oscars restaurant in Galway can vouch for the taste.
"Sweaty Betty is indeed a superb fish for the table and far superior to many premium type species, although I was unable to find the origin of the name 'Sweaty Betty' so if any readers would care to enlighten me it would be greatly appreciated.
"The flesh of the fish is firm and flavourful as well as being easily cooked both on and off the bone."
His blog also features a recipe for those who would like to try for themselves.