Theresa Villiers to be new NI Secretary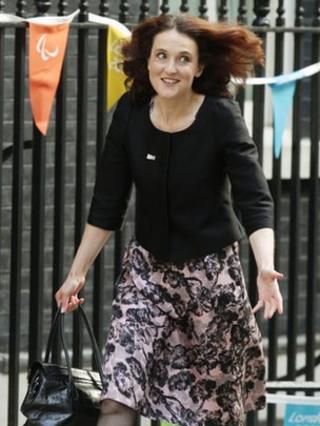 Former transport minister Theresa Villiers has been appointed Secretary of State for Northern Ireland.
The MP for Chipping Barnet replaces Owen Paterson in the first major restructuring since the coalition government came to power in 2010.
Mike Penning will be a minister in the Northern Ireland Office.
Ms Villiers said she would "relish the opportunity to build a peaceful and prosperous Northern Ireland".
Mr Paterson is taking over as environment minister.
Ms Villiers was an MEP before becoming an MP and is a former barrister and lecturer.
In a statement, she said being the Northern Ireland secretary was a "really important job in government".
"Huge progress has been made in Northern Ireland over recent years," she said.
"As the headlines in the past few days demonstrate, however, we still have some way to go if we are to overcome the divisions in society and build a genuinely shared future.
"I look forward to working with the executive, political parties and people from right across the community to build a stable, peaceful and prosperous Northern Ireland for everyone."
Mike Penning is MP for Hemel Hempstead. He was first elected in May 2005. After the May 2010 election, he was appointed as parliamentary under secretary of state for transport.
He has previously served on the Health Select Committee and as executive member of the Conservative 1922 Committee. He was a shadow minister for health from 2007 to 2010.
In his previous career in the Army, he served with the Grenadier Guards in Northern Ireland, Kenya and Germany. He also worked as a fireman and, later, as a political journalist.
Ulster Unionist Party leader Mike Nesbitt: "In welcoming Theresa Villiers, I would like to pay tribute to Owen Paterson who was not only a hard-working secretary of state but possibly the most diligent shadow secretary of state we have ever had. I hope his successor will show the same enthusiasm and commitment," he said.
"I urge her to clarify whether she will be as supportive of the devolution of the powers to vary Corporation Tax to Northern Ireland as Owen Paterson was," he added.