Phil Lynott's mum angry at US Republicans' use of song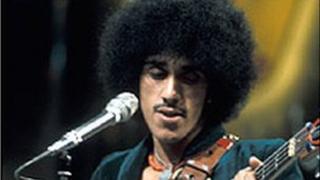 The mother of late Irish rock star Phil Lynott has attacked the use of one of her son's hits in the US republicans' campaign for the White House.
Thin Lizzy's The Boys are Back in Town played out last week as Mitt Romney's running mate and vice-presidential hopeful Paul Ryan appeared at a party convention.
Philomena Lynott, 81, said she was angry and it should not have happened.
"Phillip would not have wanted it," Mrs Lynott said.
She told BBC Radio Ulster's Evening Extra programme that a fan who runs a Thin Lizzy tribute band had written to her from America to tell her about how the song was used.
"I went into shock. The young man told me that one time somebody took the liberty of using Bruce Springsteen music for a convention and he got very annoyed and demanded that they would not use it as he was not clued into their politics," she said.
"I got very angry because I am speaking for my son. He would not want his music to be played by people whose politics are against gay people... what is wrong with gay people?"
Mitt Romney opposes gay marriage. He has said that same-sex couples should have some rights, including the ability to adopt children.
Ms Lynott said she did not have a problem with football fans using the Thin Lizzy song.
"Philip loved sport and he loved football," she said.
"But to use Philip's music in this way made me very angry. He would not want to hurt or insult any other human being, no matter what colour or whatever. So I thought I would shout and tell them how I felt.
"I don't think his music should be used by anyone. It is an insult. It is like he is backing that side against President Obama. Philip would not do that."
Ms Lynott said she rather liked President Obama.
Her phone has not stopped ringing, she said. Fans from all over the world were contacting her to agree with her protest at the use of the song.
Phil Lynott died aged 36 of heart failure in a Wiltshire clinic in January 1986, after years of battling drug addiction.