Coach: Rugby death claim ludicrous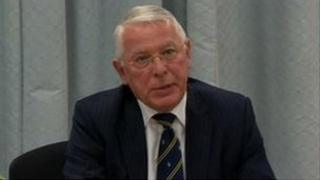 Claims that a schoolboy who died on the rugby pitch was kept on too long because he was a good player have been branded "ludicrous" by his coach.
Benjamin Robinson, 14, died from a brain injury in Carrickfergus, County Antrim, in January last year.
Coach Neal Kennedy said he had satisfied any concerns he had about his health prior to his final collapse.
He told a Belfast inquest he would never allow a player to stay on the pitch because of a rugby match.
"It is ludicrous to suggest that I would put a person's wellbeing behind the score of the game," he said.
One schoolboy who watched the game, earlier alleged that Mr Kennedy may have kept the teenager on the pitch because he was one of Carrickfergus Grammar's best players.
Pathologist Dr Jack Crane said he believed the youth died from Second Impact Syndrome brain swelling following two blows to the head.
The inquest is considering whether Ben had been concussed earlier in the Medallion Shield second round game against Dalriada School and should have come off.
Mr Kennedy said he was a physical player and the tackles he was putting in were typical of him.