Northern Ireland bill of rights - very little progress says NIHRC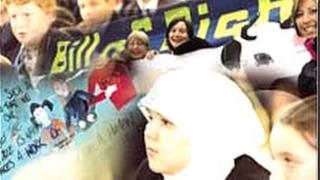 There has been "very little progress" on plans to introduce a bill of rights for Northern Ireland over the past four years, it has been claimed.
The Northern Ireland Human Rights Commission (NIHRC) delivered its advice on the issue to the government in 2008.
It said the lack of progress on the proposed bill was a "matter of regret" and called on the government to act.
NIHRC has now published a new document to encourage fresh talks about the bill and address any "misunderstandings".
The document, entitled "Is that Right?", was published on Thursday and the NIHRC said it "sets out facts and fictions surrounding the widely debated issue".
"The new publication is intended to support a fresh round of more reasoned and well informed discussion on a bill of rights," the commission added.
NIHRC is the body responsible for advising the UK government about the introduction of a bill of rights, specifically tailored for Nothern Ireland.
'Crucial'
In a statement, it said the lack of progress on the issue since it delivered its recommendations to the government in 2008 was a "matter of regret for the commission, which continues to consider that the advice it delivered constitutes a strong basis on which to proceed".
It said its new document was aimed at addressing the "misunderstandings and misinformation concerning what a bill would mean".
Chief Commissioner Professor Michael O'Flaherty said the bill was "unfinished business".
"There are many issues such as dealing with past and promoting good community relations to which a bill would make a crucial contribution.
"This potential was recognised in 1998 by the architects of the peace process. Not having a bill of rights denies the people of Northern Ireland an important tool for making progress to a shared and better future for all.
"The onus is now on the government to take the necessary steps to ensure that a bill will be adopted. To avoid that responsibility would be to renege on one of the most important provisions of the Belfast (Good Friday) Agreement."