Man admits manslaughter of 'have-a-go-hero' Samuel Crawford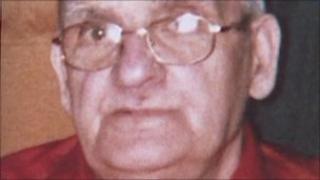 A 21-year-old man has pleaded guilty to the manslaughter of a pensioner who tackled him as he fled from a botched armed robbery at a Belfast newsagents.
Samuel Crawford, 75, suffered a heart attack as he tried to stop Darren Valliday-Smyth escaping from the shop on Cavendish Street in November 2010.
Valliday-Smyth, from Clonard Place in Belfast, had been due to go on trial for the killing next week but changed his plea on Thursday.
He will be sentenced at a later date.
Mr Crawford's death sparked widespread revulsion in west Belfast, with hundreds of people gathering for a vigil in tribute to him.
Walking stick
The pensioner died in hospital on 3 November, two days after the attempted raid which took place just yards from his home.
The "have-a-go-hero" had tried to use his walking stick to stop Valliday-Smyth leaving the scene after the younger man had attempted to rob McGovern's newsagents while brandishing a CS gas cannister.
Mr Crawford collapsed at the scene, and two women came to his aid before he was brought to hospital.
As he appeared in the dock of Belfast Crown Court on Thursday, Valliday-Smyth's lawyers asked that he be re-arraigned and he then admitted killing the pensioner.
Defence QC, Gavan Duffy, said his client had decided to change his plea after consultations but that the issue in the case was still the same, the medical causation of the pensioner's death.
Judge Tom Burgess adjourned sentencing until after the court had received victim impact reports and probation pre-sentence reports.
Valliday-Smyth was remanded back into custody.