No bail for Belfast imitation gun accused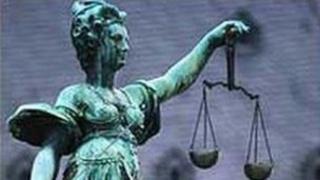 Police in Belfast who stopped a car containing an imitation gun and hammer believe an attack was imminent, a High Court bail application has heard.
A statement threatening to "execute and exile" drug dealers was later found at the home of one of two Belfast men in the vehicle, prosecutors said.
Finbar Kelly, 35, of Antrim Road and Joseph John McNally, 46, of Oisin House, deny having the imitation gun.
Bail was refused "due to the risk of re-offending and harm to the public".
The two-page document found in the vehicle claimed to be from an organisation called Correct Action Against Drugs.
Mr Kelly, a youth coordinator, and Mr McNally were arrested on Thursday last week.
The pellet-type weapon was discovered under a passenger seat of the Renault Scenic.
Two balaclavas, two pairs of gloves, a baseball bat and a claw hammer were also seized from the vehicle.
Prosecution barrister Philip Henry said: "On the basis of what police found... police are of the firm view that an attack on an unknown individual was imminent."
The court heard that follow-up searches were carried out at the homes of each of the accused.
In Kelly's house police discovered a document focusing on drug dealers within republican communities.
"It refers to drug-dealing gangs and (states) those who seek to benefit from the destruction of their families, friends and the wider community will be executed, exiled and their businesses targeted and destroyed," Mr Henry added.
It was claimed that Kelly's fingerprint was found on the statement.
At McNally's home a photograph allegedly showing him in paramilitary-style uniform and holding a rifle was found, according to the prosecution.
His barrister said it was an innocent Halloween photo and claimed there was a lack of evidence against him to meet the charge.
Counsel for Kelly said his client had only been in the car for 10 minutes and knew nothing about the imitation gun.
Kelly also denies having anything to do with the document found at his home, although it was contended that he could have unwittingly handled it.