North Belfast riots: Robinson and McGuinness meet Baggott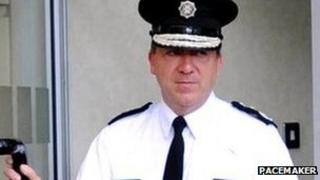 Police Service of Northern Ireland Chief Constable Matt Baggott has held talks at Stormont with the first and deputy first ministers.
They discussed the recent violence in north Belfast and the parading issues which surround it.
More than 60 police officers were injured in three nights of violence.
Deputy First Minister Martin McGuinness said the violence had been terrible, but could present an opportunity to resolve future problems over parades.
Mr McGuinness praised the Royal Black Institution, which apologised "for any offence caused" to clergy and parishioners of a Catholic church in north Belfast during a parade last month.
During a parade last month, loyalist bands played music outside St Patrick's Church in defiance of a ruling by the Parades Commission.
"I think that the Black Institution showed leadership overnight and I very much welcome that," Mr McGuinness said.
"Even though it was three terrible nights of trouble, a golden opportunity may now present itself, which can be developed in the interests of everybody and lead to a final resolution of the whole issue of parading."
The chief constable, Mr Baggott, commended the courage of his officers during the trouble.
"I have no doubt that their actions on the night saved many people from being injured, at quite some personal costs to themselves," he said.
Of Thursday's meeting at Stormont he said: "We agree that these are local solutions that need to be determined.
"What's happened in the last few nights has given the wrong impression of Northern Ireland and the progress that has been made.
"We have the lowest crime figures for many years - burglaries and robberies, anti-social behaviour is all plummeting, confidence in policing has never been higher.
"I wouldn't want to lose perspective, by three nights of rioting, of the great progress that's being made by so many."
'Same page'
Justice Minister David Ford also took part in the talks along with two other executive ministers - Alex Attwood and Danny Kennedy.
After the talks, First Minister Peter Robinson said: "We're all on the same page, all the political parties and the chief constable, in terms of our determination to move forward and resolve these issues.
"I'm glad to say we do find common ground in much of what we see the problems being and the best way to progress to resolve those."
The violence started on Sunday after a republican parade close to Carlisle Circus.
On 29 September, there will be a loyalist parade to mark the 100th anniversary of the Ulster Covenant.
The police have said politicians must sort out the situation; politicians have said they are doing all they can.
Earlier, at a meeting of the Northern Ireland Policing Board, the board chairman Brian Rea said: "The impact of policing parades, protests and disturbances has resulted in substantial injury to our police officers.
"It is shameful 65 officers were injured. We want to express our revulsion and want to praise police officers courage and bravery."