Plans for Erne Hospital site 'impressive'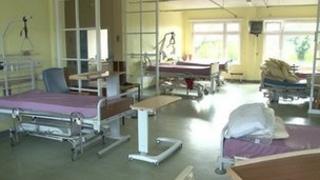 NI's first and deputy first ministers have said they are impressed with a plan to transform the old Erne Hospital site in Enniskillen, County Fermanagh.
The hospital is now empty following the opening of a brand new South West Acute Hospital in June.
Fermanagh District Council wants to turn the old site into a centre for public services to help regenerate the town.
South West College has said it would like to relocate there by 2015.
Other public sector bodies could also move to the site. These include the Jobs and Benefits office, the Housing Executive office and the police station.
Brendan Hegarty, chief executive of the council, said the move would "enable the sharing of facilities".
"If those public bodies move to the site (it) would free up other development sites in the town," he said.
The First and Deputy First Ministers, Peter Robinson and Martin McGuinness, travelled to Enniskillen to find out more about the plans.
Mr McGuinness said: "The big selling point here is the fact that there is complete agreement between all of the political parties about how we need to move forward in Fermanagh, particularly how the Old Erne Hospital site will be utilised for the benefit of the people of the county."
Most of the old hospital building will have to be demolished.
A business case is being put together to establish how much it will cost to redevelop the site.