North Belfast rioters 'in flower pot attack'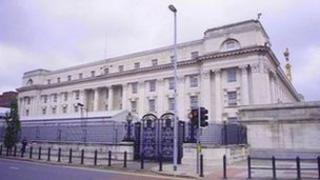 Police were attacked by rioters using flower pots stolen from a nursing home, the High Court has heard.
Bail was granted to a 17-year-old boy accused of injuring two police officers during trouble following a republican parade in north Belfast on Sunday.
A prosecution barrister said the trouble started when 300 loyalists protesting at the parade were moved back up Clifton Street.
"Police say anything that could be thrown at them was thrown," he said.
The court was told the teenager was allegedly seen throwing masonry, wood and metal at police lines.
He was arrested but fought and resisted, violently inflicting injuries on officers, it was claimed.
The prosecution lawyer said: "As a result of their involvement with this applicant, two police constables sustained injuries resulting in hospital treatment."
Opposing bail, the barrister outlined concerns over an event on 29 September marking the centenary of the Ulster Covenant signing, which 120 bands are due to attend.
"Forty of those bands will pass by the Carlisle Circus area, including Clifton Street, and they are requesting of the Parades Commission that they will parade past St Patrick's Chapel.
"In addition to the 40 bands there will be marchers and supporters, and police believe there is the potential for serious public disorder."
A defence barrister argued his client should be released due to his age, and to ensure equal treatment with other teenage riot suspects granted bail.
He claimed the prosecution had failed to show there was a risk of re-offending based on his client's past behaviour.
Bail was granted under strict conditions, including a night-time curfew, electronic tagging and a ban on being within 500 metres of any parade or protest.
Mr Justice Horner said he would be placed under curfew during 29 and 30 September.