BBC reporter takes an Ecar test drive across Northern Ireland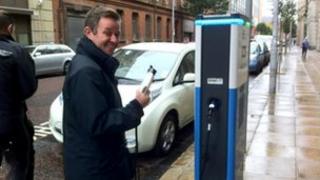 BBC Newsline is testing out an electric car this week and Conor Macauley is the guinea pig who is going to do his 50-mile daily commute in it.
It's not the sort of car you'd expect to attract a lot of attention in, but my Nissan Leaf is a bit of a head turner.
Even as I was picking it up from the Department of Regional Development in Belfast's Adelaide Street, passers-by were stopping to ask questions and peer through the windows.
Even the local traffic warden paused to check it out.
The car is a fully electric five door hatchback, about the size of a Ford Focus with a range of around 90 miles (145km) on a full battery.
It's essentially an automatic, so with no gears it's fairly easy to get to grips with.
After a quick familiarisation courtesy of the dealer who'd brought it, we were heading west along the motorway towards Lisburn for a quick test.
My first impression is that it's a nice drive, smooth and incredibly quiet - there is no engine noise at all, just the rumble of the wheels.
Full battery
When a pedestrian walked into my path through a line of stationary traffic in the city centre, I realised he just hadn't heard me coming - my only nervous moment so far.
As well as the speedometer the Leaf also comes with a range gauge which tells you how much distance you have left before you'll need topped up.
When we left Belfast we had around 78 miles available to us.
After driving out to Lisburn, around the country roads and back - stopping and starting for a bit of filming - we had around 55 miles.
Despite that I did catch myself spending a lot of time checking out my available mileage. It's a common phenomenon in electric cars apparently; they call it range anxiety.
This evening, I'll be taking the Leaf home. Twenty five miles along the road towards Newry. There'll be no charge point between the city and my destination.
The plan is to charge it at home and commute on Tuesday. With a full battery I should be able to make it in and out without any problem. At least, that's the plan.