Rory McIlroy's open letter on his 'national allegiance'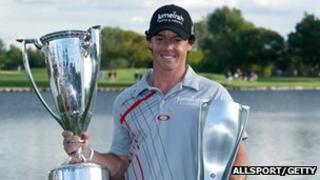 Golfer Rory McIlroy has said he has not yet made any decisions about playing in the 2016 Olympics, following questions over his "national allegiance".
The 23-year-old was born in Northern Ireland and questions have been raised about whether he would choose to represent the UK or Ireland in Rio.
In an open letter on his Twitter account he said he was in "an extremely sensitive and difficult position".
McIlroy added he appreciated support from both British and Irish fans alike.
'Cultural identity'
In the letter, published on Monday, the golfer said: "Having just won three out of my last four tournaments, including a second major championship, I was hoping that my success on the golf course would be the more popular topic of golfing conversation today!
"However, the issue of my cultural identity has re-emerged, and with it, the matter of my national allegiance ahead of the Rio Olympics in 2016."
He said that he had addressed the issue and the difficulties it raised for him in a recent newspaper interview.
At the weekend, McIlroy was quoted in the Mail on Sunday saying "the fact is, I've always felt more British than Irish".
"Whatever I do, I know my decision is going to upset some people but I just hope the vast majority will understand," he told the paper.
In his open letter which followed the newspaper article, McIlroy described himself as a "proud product of Irish golf and the Golfing Union of Ireland".
However he added: "I am also a proud Ulsterman who grew up in Northern Ireland, which is part of the United Kingdom. That is my background and always will be."
McIlroy is originally from Holywood in County Down but pointed out that at present, he plays most of his golf in the United States and considers himself to be "a global player".
'International sportsman'
He won the BMW Championship in Indiana on Sunday, confirming his status as the current number one player in the world.
The two major titles he has earned to date - the 2011 US Open and the 2012 PGA Championship - were both won on American soil and McIlroy said he felt that he had "a great affinity with American sports fans".
"As an international sportsman, I am very lucky to be supported by people all over the world, many of who treat me as one of their own, no matter what their nationality, or indeed mine. This is the way sport should be," his letter stated.
The sports star added: "I wish to clarify that I have absolutely not made a decision regarding my participation in the next Olympics. On a personal level playing in the Olympics would be a huge honour.
"However, the Games in Rio are still four years away and I certainly won't be making any decisions with regards to participating any time soon" he wrote.
Last year, when he was asked about which county he would represent in 2016, McIlroy said he would not make his decision public until he had to, because "whatever I say is going to upset someone".