Bangor diabetic boy Josh Todd 'unable to start Primary One'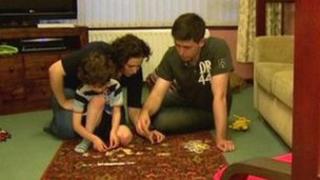 The parents of a four-year-old boy with diabetes have said their son has not been able to start primary school because of issues over staff training.
Josh Todd from Bangor was diagnosed with the condition in January. He was due to begin in Primary One last week.
His parents say he has not been able to go in due to issues over whether staff are fully trained in diabetes care.
The South Eastern Health Trust has said a specialist nurse has given basic training to teachers at the school.
The family said it had been a very frustrating process.
"It's one of the those 'catch 22' situations where the school decided that they couldn't take responsibility for it," Josh's father David said.
"Since me and Helen both work full time, they said they couldn't look after him."
In a statement, the South Eastern Health Trust said that its specialist nurse had given basic training to teachers at the school, so they believed there was no reason why Josh should not have started school.
The school and the local education and library board could not be contacted for comment.